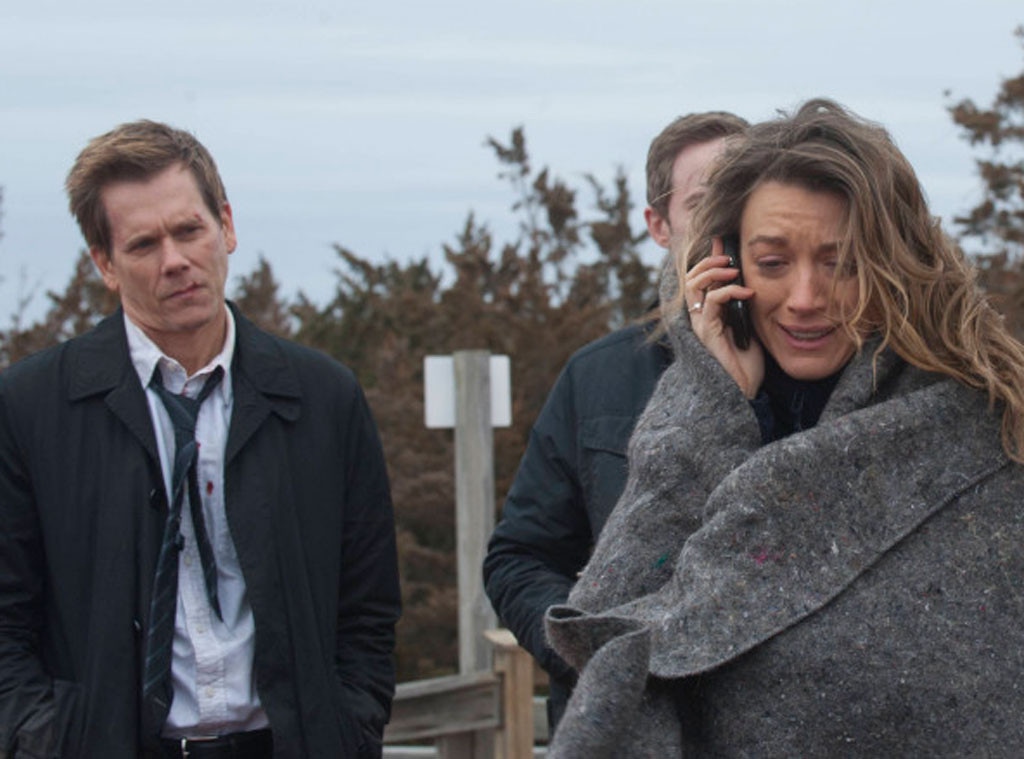 Barbara Nitke/FOX
Spoiler alert! We're about to dig into the biggest, most jaw-dropping moments from Monday night's TV. If you haven't yet watched a particular show, and don't want to be spoiled, skip to the next!
The Following: Holy finale, batman! Not one, but two of our favorite characters' lives hang in the balance on the serial killer hit series. Just when we all breathed a sigh of relief that Joe (James Purefoy) had (supposedly) died in the explosion and that Claire (Natalie Zea) and Ryan (Kevin Bacon) could happily be together: bam! We forgot about psycho Molly (Jennifer Ferrin), who was hiding in the apartment and popped out to stab both Ryan and Claire. The screen faded to black with both characters bleeding and possibly dying. Also, even though Joe's body was ID'd with dental records after the fire, does anyone really believe he's dead? We smell some tampering coming from someone in the FBI.
We're not sure about the fate of those three, but we are sure about Agent Parker (Annie Parisse). Weston (Shawn Ashmore) and Ryan were too late, and she suffocated to death while laying in the coffin she was trapped in. RIP, you badass agent. Now, season two starts next week, right?
Bones: Thanks for the emotional rollercoaster, Bones writers! First, Booth (David Boreanaz) and Bones (Emily Deschanel) shippers got a giant gift in the form of a proposal. Bones popped the question to her man Booth who answered with an enthusiastic, "hell, yes!" And just when we started planning our Bones' wedding viewing party, the rug was pulled out from under us.
Pelant (Andrew Leeds) forced Booth to break off the engagement by threatening to kill five random people, and the worst part is that he couldn't even tell Bones why he was calling it off! She was heartbroken and we felt her pain. And that, Bones fans, was a cliffhanger we did not see coming.
How I Met Your Mother: Quinn (Becki Newton) returned! But not to steal Barney (Neil Patrick Harris) away from Robin (Cobie Smulders). It was all part of a master plan to give Barney the worst bachelor party of all time! That included: a cheap hotel room, a stripper he wasn't into (Quinn), a clown and finally, Ralph Macchio. Why Maccio? Because to Barney, he is the "wrong Karate Kid." In the end, Barney was pleased to see that his bride-to-be was still able to surprise him, and William Zabka (the "real Karate Kid"), turned out to be the clown and was there the whole time!
Line of the Night: "Always."—Castle (Nathan Fillion)
Gif of the Night: Castle and Kate (Stana Katic) sitting in a tree!