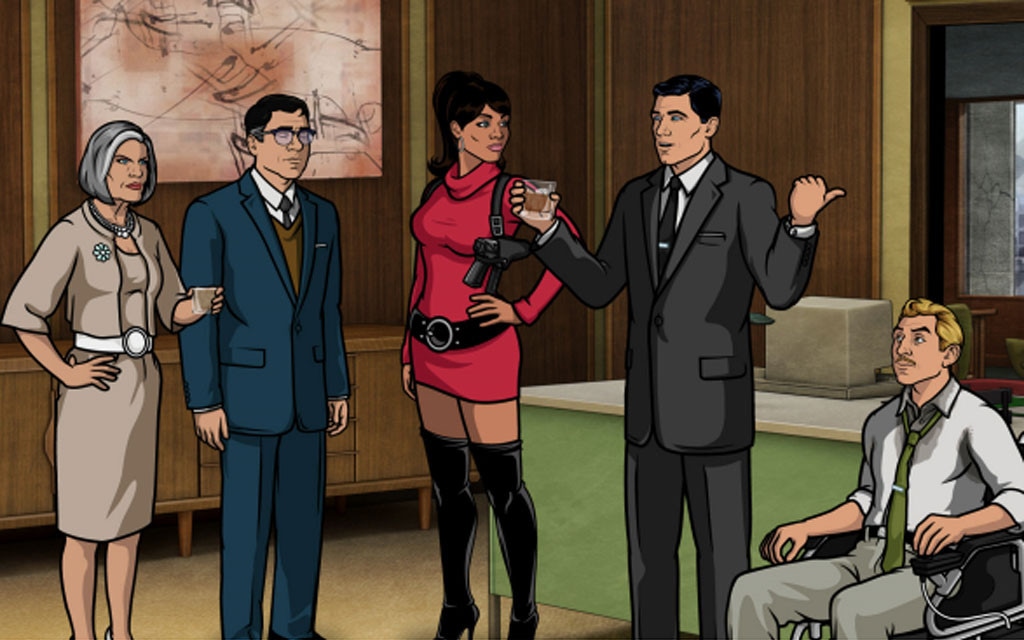 FX
To make sure you're being your best couch-potato self and to expand your TV experience, we're highlighting the best shows on TV you're not currently watching.
Love James Bond, but wish he was, you know, funnier? Are you so obsessed with secret agents that you are desperate to see the inner workings of a spy agency? Do you just love good comedy writing? If you answered yes to any or all of these questions, then you should—nay, need to be watching Archer on FX.
If you've been putting it off because it's animated and you're not into that kind of thing, that you are sorely missing out on one of the funniest television shows on the air right now. And the cast is so on the money, they should be called George Washington: Bob's Burgers H. Jon Benjamin, Arrested Development's Jessica Walters and Judy Greer, Saturday Night Live alum Chris Parnell and comedy superwoman Aisha Tyler.
The Gist: Sterling Archer (Benjamin) is the top agent working at the International Secret Intelligence Service—which is run by his mother Malory (voiced to Lucille Bluth perfection by Walters). ISIS is full of employees that vary from completely incompetent to the totally messed-up but very good at what they do. Sterling is a rich, handsome mama's boy, who's completely in love with himself. He butts heads with everybody, but especially with the beautiful ISIS agent Lana, his super-sexy spy ex-girlfriend. The employees at ISIS are constantly trying to navigate the world of espionage without killing each other or getting themselves killed. Archer is like the love child of James Bond, The Office and Family Guy, and has a revolving door of awesome guest stars including Burt Reynolds, Jeffery Tambor and Jon Hamm.
Why We Love It: It's damn funny. Like, Emmy-worthy, laugh-out-loud, seriously funny. And it's not very often that you can say that animated characters have amazing comedic timing, but they really do! Our hero Archer is kind of like Schmidt (Max Greenfield) on New Girl: he's a total d-bag, but he's entertaining as hell so you can't keep your eyes off him. And if you ask us which character is our favorite, we can't pick one. One week we'll love Pam (Amber Nash), the crude and gossipy Human Resources director, and then the next episode our favorite will be Ray (show creator Adam Reed), the smart and openly gay intelligence analyst who is unfortunately surrounded by idiots. Take your pick!
The Stats: Season four just ended, and FX has already ordered a fifth season. Archer's ratings have consistently ticked up with every season, with over 1.6 million viewers tuning in for the final season-four episode on April 11.
Eye Candy: Is it weird that we find the animated Archer hot? Well, he's tall, dark and handsome and seriously ripped. Lana, too, is often in situations where she somehow loses all her clothes and has to shoot guns and kick ass in just her underwear. We would kill for her curves.
Romance Factor: Lana and Archer straddle the line between loving and loathing each other, but deep down, they care about each other. That is evident whenever Lana is in danger and Archer goes to great lengths to save her. And just when you think they are having a sweet moment, Archer does something stupid and Lana slaps him. It's one of the most entertaining will they-won't they relationships on television. Plus, Archer told Lana he loved her in the season-four finale, which was especially poignant after she told him she was [spoiler!]. But that's not all! There's also a weird thing between Archer and Cheryl (Greer), the receptionist. Oh, and Dr. Krieger (Lucky Yates) has a Japanese anime-hologram girlfriend. Don't judge him; their relationship is pretty sweet.
Best Episode: Season two, episode nine: "Placebo Effect." Archer's treatment for his breast cancer is going swimmingly until Dr. Krieger discovers that Archer's cancer medicine is actually Zima and sugar pills. Archer and Lana go on a mission to crack down on the illegal cancer drug ring to get the life-saving treatment he needs.
Best Season: Season three begins with a three-part episode involving pirates (and Patrick Warbuton and David Cross) and ends with a two-part adventure in space. In between: Archer magic.
Repeat Watch Factor: 10 out of 10. There's always so much going on in each episode and so many running jokes that you have to watch each episode multiple times to get a full appreciation.
When You Can Watch: Netflix just added season three to its Watch Instantly library. Go ahead and binge on every episode!
Is there a show you love that you feel is underappreciated? Leave a comment and we may feature it!