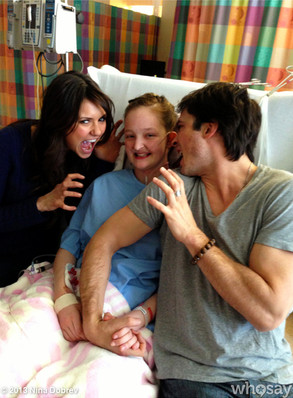 Nina Dobrev/WhoSay
Ian Somerhalder and Nina Dobrev may have made this girl's life so far—but, happily, 14-year-old Kayla Miller is going to have much more time to top the experience of meeting a couple of her favorite vampires.
"Sending congratulations to @kayla_0507 and her family. We all secreted this. Her life has been saved. I'm smiling ear to ear," Dobrev wrote on WhoSay today after she found out that Kayla had undergone a successful lung transplant.
She and her Vampire Diaries costar visited Kayla in the Toronto hospital where she was awaiting the livesaving surgery last weekend. Luckily no shortness of breath ensued when Somerhalder leaned in close for a mock-nibble.