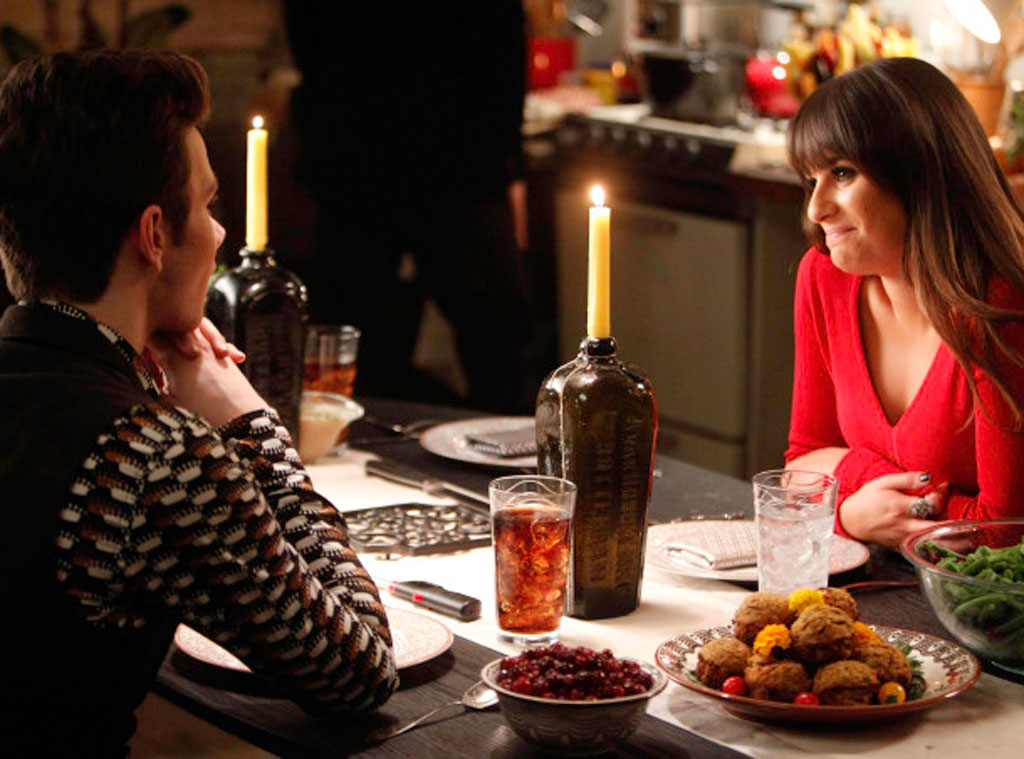 FOX
Did you have Glee scoop on your Christmas list? Good because that's exactly what we've got for you!
Glee's holiday-themed episodes are always special and this season's Christmas outing is shaping up to be no different! We chatted with two of the Fox hit's stars and managed to squeeze some scoop on the upcoming Christmas episode out of them! Plus, we've got word on Kristen Bell's Gossip Girl finale cameo, a new hottie on Modern Family, CSI's crossover episode and more in today's Spoiler Chat...
fanboycentral: Does the sex actually happen or is it part of a dream sequence? (regarding the mystery couple that does the deed)
The sex actually happens. Not a dream. Not an alternate reality. Not a fakeout. Not a simulation. But like I said, there is a twist, and that twist has to do with motivations.
Matty: Burt and Kurt's relationship is the best part of Glee, so I want scoop on those two!
You are so in luck, because we just chatted with Mike O'Malley and guess what? Burt is taking the Big Apple by storm! "I'm in the Christmas episode," he tells us. "I get to go to New York." Any chance Burt will catch his son Kurt rocking the fashion world? "I don't see him in action at Vogue. I don't think they want Burt up in Vogue," O'Malley jokes. 
Jody in Colo.: What happened to Sugar and Artie? They were so cute together on Glee!
"I think Sugar has had this off and on romance with Artie," Vanessa Lengies tells us. "She's had a thing for him, but I think she's socially pretty awkward, so it hasn't really blossomed. But there are hints of it all the time." And since Damien McGinty is coming back for the Christmas episode, we had to ask if we were going to get some sparks between Rory and Sugar. "Sugar is not in the Christmas episode," Lengies says sadly. "So, Sugar and [Rory] do not meet again." Bummer city!
Rebecca: Gossip Girl, please!! What is Kristen Bell doing in the finale?
You will only get a brief glimpse of her, but she's part of a sequence that is both poignant and cool!
Christine: Can you tell me anything about the CSI crossover episode?
When Mac shows up for a romantic weekend with his girlfriend Christine, only to find her missing from the hotel room, both the CSI: New York and original CSI teams will join forces to find her. And that's not the only crime going on in that episode! The CSI gang will also have to investigate the murder of a con man who has been selling fake bottles of rare wine to unsuspecting customers. Needless to say, the forensic peeps will have their hands full.
Tiffany: Loving this season of Modern Family! Any scoop on Jay and Gloria's baby?!
Jay is one very, very lucky man. Not only does he have a smokin' hot wife, but he's about to have another attractive woman around the house: The nanny! The ABC hit comedy is currently casting Jay and Gloria's nanny, Lucia, who is described as very sexy with an amazing figure. Hmmm…sound familiar?!
Maggie A.: You're my source for New Girl info, so hit me!
Jess continues her journey of finding herself this season by taking an adult writing class, which leads to the usual New Girl shenanigans. First, a guy in the class may or may not have an unhealthy obsession with Jess, and trust us when we say that he'll give you the creeps. Plus, Nick gets his ass kicked by an old woman. We can't tell you what gets him in that situation, because that would ruin the fun. You'll just have to wait and see for yourself!
Loving The Mindy Project! Any scoop on what's ahead?
How about the best Valentine's Day episode ever?! We all know Mindy is a huge fan of classic romantic comedies and we'll see her return to the Empire State Building on the romantic holiday in the themed ep…despite the fact that she's been banned from visiting anymore (an awesome fact we learned in the pilot). Sleepless in Seattle reference FTW!
—Additional reporting by Jenna Mullins, Tierney Bricker and John Boone
Want your TV questions answered in our next Spoiler Chat? Email them to tvdiva@eonline.com or tweet at @KristinDSantos!