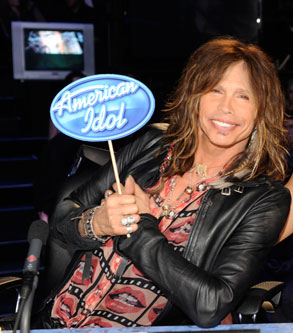 Frank Micelotta / FOX
In almost one fell swoop, American Idol removed two dynamic judges from behind the table: Aerosmith legend Steven Tyler and superdiva Jennifer Lopez. Eventually they would replace them with Keith Urban, Nicki Minaj and Mariah Carey, but for two seasons, Tyler brought some life back into the veteran reality series with crazy antics and oftentimes confusing terminilogy.
When E! News' Ken Baker sat down with Aerosmith to talk about their upcoming tour and music, Tyler admitted that his decision to appear on Idol impacted his relationship with the band.
"We'd just come off a tour and I took Idol and I didn't tell these guys, to be fair, and they got bummed out," he tells us. "We got into a lot of ya-ya because of tumult that happens in a band. Sometimes stuff doesn't get talked out quite properly, but it always turns out as songs down the line anyway."