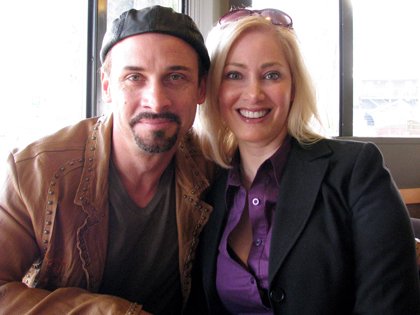 Rebecca Bollwitt
It's the most decorated Canadian film of 2008 and it's about to make motion picture history thanks to the efforts of producer and actress Madison Graie along with Colin Cunningham who wrote, directed and starred in the thriller, Centigrade.
The short film was written by Cunningham almost 20 years ago and immediately came to Graie's mind when she heard of the Director's Guild of Canada's Kickstart program that awards $20,000 to five Directors each year. Originally called "Fahrenheit", Graie and Cunningham dusted off the script, submitted it for the program and ended up with the award, which then became their entire budget. Graie admits that when it comes to film production, a little money goes a long way in this city.
"Vancouver really is kind to independent film makers." Cunningham added that as such, they were able to put together "a real A-list" crew.
Centigrade premiered at the World Film Festival and since then it has been screened at numerous film festivals.  It also took home five Leo Awards this summer and the momentum is still growing.
"Madison called me up and said 'I've got good news and great news,'" said Cunningham. The good news was that they won at the Cinequest Film Festival, and what could only be better than that was that this was an Academy Award qualifying event so it then became the first Canadian film to be considered for the 2009 Oscars.
Cunningham noted that due to their signing with Shorts International, "we've also been accepted to iTunes so Centigrade is now going global this month." Centigrade will be the first Canadian live-action short ever on iTunes and will be available mid-October on iTunes USA, Canada and UK. "It's the next wave, people still think of iTunes as music," commented Graie on the rise of online film distribution, " this is just so huge for us."
Following the release on iTunes, Graie said that they are working to develop Centigrade into a feature film yet the two partners still don't know where they'll go from here as they are (rightfully so) basking in the success of the film so far.
GUEST BLOGGER: Rebecca Bollwitt has been blogging about Vancouver since 2004 on Miss604.com, co-hosting two podcasts since 2005 and in 2008 she co-founded sixty4media, a social media consulting firm.