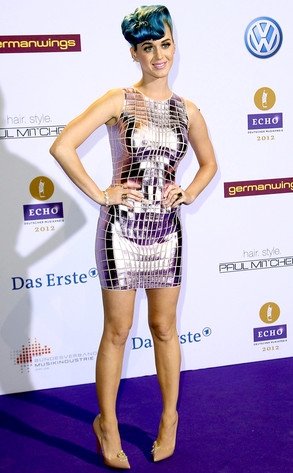 Sean Gallup/WireImage
Over-the-top diva chic might not get mom and dad's approval, but it makes a great statement on stage.
In a sneak peek of Katy Perry's upcoming Part of Me movie, her mom tells a then 18-year-old Katy she won't watch the singer perform in a skimpy outfit on MTV.
Thank God, the "I Kissed a Girl" singer didn't take the criticism too seriously.
Katy's gone on to become one of the most influential style icons of the decade with her sexy geek-meets-pinup-girl style—and mother-daughter relations don't seem to have suffered too badly
But she's not the only artist inspiring us to drop everything and rush out to buy her latest look.
From Lady Gaga's over-the-top creations and Gwen Stefani's cheeky designs to Jennifer Lopez's slinky look and Madonna's signature cone bras, see music's most stylish women in our special Hall of Fame fashion gallery!