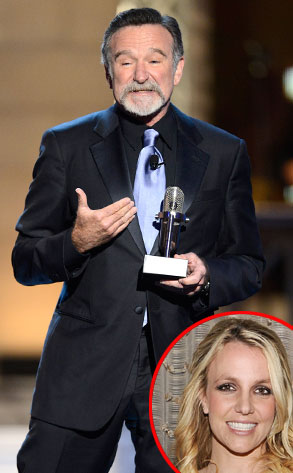 Kevin Mazur/WireImage
Robin Williams ain't gonna be hunting for goodwill from Britney Spears anytime soon.
We caught up with the legendary funnyman at the Comedy Awards on Saturday in New York City and noticed that the Oscar winner seems to have a matrimonial streak running through his life at the moment: He recently got hitched to graphic designer Susan Schneider, and he's currently set to star in the ensemble comedy The Big Wedding, about a divorced couple pretending to be married en route to their son's wedding day.
Natch, this prompted us to pose a pop quiz to the quick-witted comedian about the biggest spouse-themed, hot-button topic currently boggling all of pop culture: that Britney Spears' fiancé, Jason Trawick, was recently named her co-conservator.
Is this the matrimonial wave of the future? Or a sign of the apocalypse?