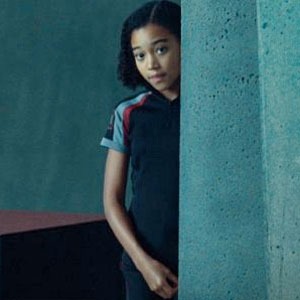 Lionsgate
The odds are definitely not in the favor of the bigots who have lashed out against The Hunger Games with a series of racist Twitter posts.
And we're happy to report that Amandla Stenberg, the young black actress who plays Rue in the blockbuster flick, isn't stooping to their level after these so-called fans of Suzanne Collins' book trilogy attacked the movie for using black actors in key roles.
"As a fan of the books, I feel fortunate to be part of The Hunger Games family," Amandla, 13, said in a statement released earlier today. "It was an amazing experience; I am proud of the film and my performance. I want to thank all of my fans and the entire Hunger Games community for their support and loyalty."
Amandla was singled out along with Lenny Kravitz and Dayo Okeniyi in several tweets over the weekend that questioned filmmakers' casting choices.
"I think Amandla was fantastic in it, and she's so beautiful," Isabelle Fuhrman, who plays Clove in the movie, exclusively told me last night at the Valentino store opening in Beverly Hills. "She's exactly how I imagined her to be.
"I think it's just terrible," she continued. "She's such an amazing actress and she's so sweet. I guess people read things differently and imagine things different, but I think she was the perfect choice for Rue."
We couldn't agree more.
Kravitz and Okeniyi haven't commented on the controversy.
Fuhrman said the cast remains as tight as ever. "We still keep in touch and we still talk all the time," she said. "We're all planning on getting together soon."
Hey, how can we score an invite?