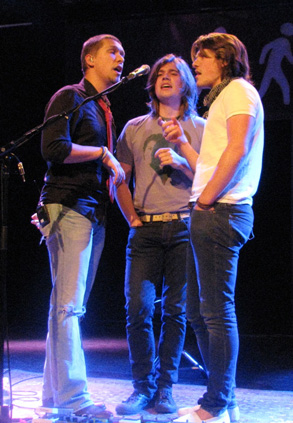 Keira-Anne Mellis
It had been eight years since Zac, Taylor and Isaac Hanson had played Vancouver and judging by the excited screams of the fans outside of the Commodore on Granville, their return had been long-awaited.
Since they were last in town, Hanson started their own record company, 3CG Records, topped independent album charts, and toured the world. In 2006 they recorded the song Great Divide with a school choir in Soweto and released the single on iTunes, with all proceeds going towards research and prevention of AIDS in Africa.
"We've been lucky to see the world," noted Taylor as we chatted inside the legendary Commodore Ballroom, "What we really saw was that AIDS is affecting a whole generation of people."
Releasing a charity single was not enough for Hanson however, in September of 2007 they began taking walks before their concerts; these weren't just peaceful strolls in the park to clear their heads before shows. They were barefoot and with fans - encouraging all to come out and complete this small and simple task that could make a world of difference.
"We wanted to start these walks in order to inspire people that are our peers and our fans to say: 'You know what? We can start small, we can start simple, and most importantly we can start.'" Taylor who, along with his brothers, won't stop until they have completed 24,902 miles - equal to a walk around the world.
Fans are also encouraged to start up walks in their hometowns by purchasing a kit from TalkTheWalk.net. You can also buy a pair of shoes from TOMS Shoes and they will donate a second pair to a child on your behalf.
Hanson's walk around Vancouver was a success and their concert was packed with adoring fans along with the sound of their good-natured, grassroots rock and roll. Upcoming tour dates are listed on their official website, Hanson.net and the walks usually take place a few hours before the show, starting at the venue; all are welcome.
GUEST BLOGGER: Rebecca Bollwitt has been blogging about Vancouver since 2004 on Miss604.com, co-hosting two podcasts since 2005 and in 2008 she co-founded sixty4media, a social media consulting firm.