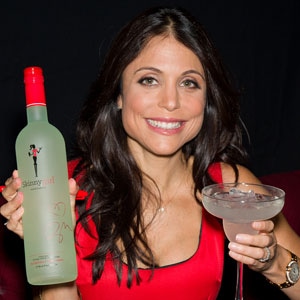 Gilbert Carrasquillo/FilmMagic
It's safe to say it's been a rough week for Bethenny Frankel. And while she's stomped down the rumor questioning her tale of being lost at sea, another rumor has popped up in its place. And this one could cost her more than just her reputation.
At issue is whether or not Frankel is truly deserving of her recent inclusion on Forbes' Highest-Paid Women in Entertainment list released last week. The magazine claims the recent sale of her Skinnygirl empire netted her a whopping $100 million. But recently unearthed documents pertaining to the sale seem to indicate that the figure she banked is actually a far less astronomical $8.1 million.
Which would mean, at least as far as the press is concerned, Frankel's net worth just dropped $91.9 million. Yes, million (granted that she may never have had to begin with).
But did her booze-abetted payday really get shaken, stirred and straight-up inflated by an extra eight figures?
Forbes says no. But plenty of others say yes. Here's the deal..
According to a recently unearthed quarterly report from the U.S. Securities and Exchange Commission, first flagged up by the Huffington Post—which is just as scintillating a read as it sounds—it appears that Skinnygirl was indeed sold to Beam Global for a total of $8.1 million.
Which would not exactly be chump change, but still makes for a far, far, far cry from the first reported total. The only problem? It's not true.
Forbes is calling foul on the gossip site's apparently inaccurate reading of the dense financial document (go figure).
"The $8.1 million is just the amount of intangible assets purchased in the Skinnygirl transaction, essentially the amount Beam paid for the Skinnygirl brand rights—not the total purchase price," R.J. Hottovy, a financial analyst, told the magazine.
In fact, the only thing the documents show for sure is that Beam paid a minimum of $39 million for Skinnygirl, though the total is likely much higher than that. Of course, neither Beam nor Frankel—who has never confirmed nor denied the sky-high figure—are talking, and the total purchase price isn't included anywhere on the documents.
"We will continue to disclose accounting data as required to be included in financial filings, but do not expect that a black and white lump sum 'purchase price' figure will be made available. Suffice to say, this was not an $8.1 million acquisition," Beam Global spokeswoman Paula Erickson told Forbes.
Bethenny herself confirmed as much to the financial magazine.
"Come on," she said. "That it could be the fastest-growing booze brand on the market and have sold for that little is just preposterous. I'm going to be paying a hell of a lot more than $8.1 million in taxes."
It was about as measured a response as she gave fans earlier today.
"The price of success," she tweeted in response to questions about the price discrepancy. "The serious issue is supposedly credible outlets hiring freelance writers with false info to get attention."
When a follower posited that "the reporter @HuffingtonPost doesn't get accounting or know how to read financials," Bethenny replied, "Precisely. Irresponsible journalism."
And as for her inclusion on that Forbes list? Consider her placement totally safe.
UPDATE: Huffington Post has posted a correction, stating, "Our reporter misread the $8.1 million figure in the financial documents. As Forbes points out, the number refers to the amount of Skinnygirl attributed to goodwill, not the total purchase price. We regret the error."