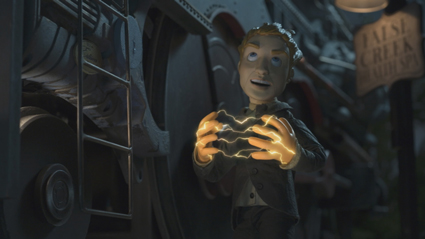 Over the course of a year, Mission, British Columbia was the playground of creators and animators of Canada's first stop motion film, Edison & Leo.
Soon to make its debut at the Toronto International Film Festival, the animated feature, written by George Toles, is targeted at a more adult audience with its darker humour and undertones, but that isn't all that makes this film extraordinary.
George T. Edison, voiced by Emmy award winning Powers Booth, is an inventor whose son Leo (Gregory Smith) has been affected by his scientific experiments and more often than not, his mishaps. The story is of Leo's coming-of-age but in a twisted, irregular, yet entertaining way as he deals with his father who is almost maniacally driven to progress science with his inventions.
The production called for an invention of its own as members of the stop motion crew (including two UBC PhD grads) created their own "home-made motion control robot" on the lot, called "the Dynamocap". On a budget of 10 million dollars, the talented crew of this was able to create gear and equipment normally found in high-end studio pictures.
From models, sets and puppets, the world of Edison & Leo was constructed from scratch in an old residential school, in a city just outside of Vancouver, where the gymnasium became the main shooting stage, while former dorm rooms turned into housing for out of town animators.
Having the ability to showcase the amazing homegrown, Canadian talent is what makes Edison & Leo so unique. It's amusing and creative, not only in its look but also its technology.
Catch screenings of the film, directed by Neil Burns, at the TIFF on September 4th and 6th.
Get more movies, parties and red carpet coverage of TIFF at www.eonline.com/TIFF.