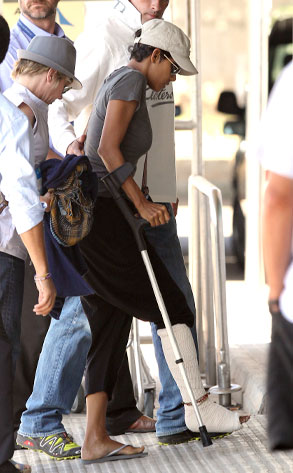 INFphoto.com
Now this is what we'd call a crutch performance.
Halle Berry was snapped sporting a fresh cast on her right leg and walking with the help of crutches while boarding a private plane in Mallorca, Spain.
As we told you yesterday, the actress stumbled and broke her foot during an off day from filming her latest movie Cloud Atlas.
Although Halle is far from home, she will have plenty of shoulders to lean on while she recuperates, including her adorable 3-year-old daughter, Nahla, and beau Olivier Martinez, who have been spotted in the country alongside the actress.
Here's to a speedy recovery, Halle.