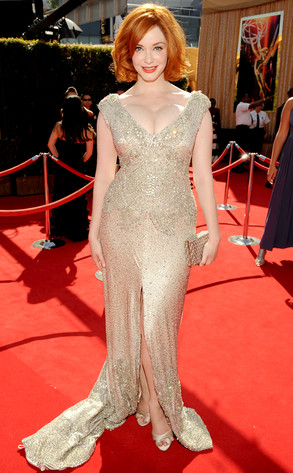 Frank Micelotta/PictureGroup via AP IMAGES
TV's biggest stars brought the glamorous couture, blinging jewels and stunning beauty to the 2011 Emmys red carpet.
And even though Mad Men's hot office manager Christina Hendricks tried her best to glam it up in an intricately beaded Johanna Johnson gown, it's hard to notice all the fabulous details when her cleavage was busting out, no?
Of course a lady should celebrate her curves, but we say voluptuous Christina needs to try a new look instead of this same old silhouette.
So how did the actress stack up against the other stars on the red carpet? From ladies in red Lea Michele, Nina Dobrev and Kate Winslet to Gwyneth Paltrow's peek-a-belly disaster to Julianna Margulies' space suit, find out whose style soared and whose went splat in our special 2011 Emmys: Fashion Police gallery!