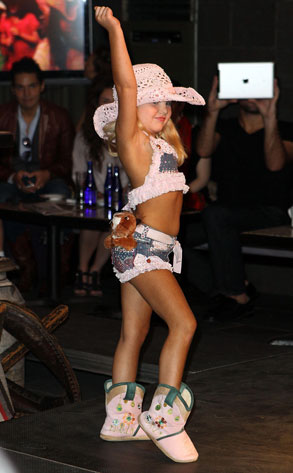 Robin Merchant/Wireimage
Six-year-old Toddlers & Tiara star Eden Wood paraded around in a halter top and short shorts during a toddler fashion show yesterday, but her mom, Micki, says her daughter isn't being sexualized or objectified.
"It's just so much crap!" she said Thursday after her Eden modeled and sang at the Cowgirl Riders Debutante Fashion Show, which was hosted by Real Housewives of New York City star and former model Kelly Bensimon.
"All I can say is the people in the pageant industry I know love their kids and would never do anything sexual or objectification or all those words running around," Micki added.
But how does Eden herself feel about it?