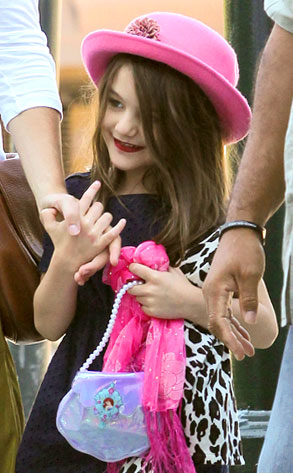 PPNY / GSNY / Splash News
The only thing that Toddlers & Tiaras prostitute costume was missing? Pretty Woman's bright red lipstick, of course.
Well, enter Suri Cruise: This celebutot isn't afraid to mix pink and red, ever the mark of a true style maven.
On the go in Manhattan this week, the 5-year-old donned a neutral short-sleeve dress, the better for her hot-pink summer scarf and favorite hat to really pop.
Suri must have been headed for someplace extra-swanky, however, because she was sporting this season's must-have color for the mini-Coco Chanel in your life.