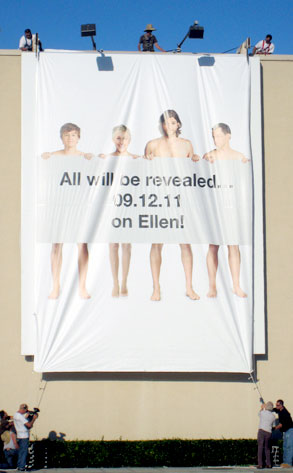 Flynetpictures.com
Ellen DeGeneres tossed off her dancing shoes—and a whole lot more!
A new billboard was unveiled—and then quickly taken down—over at the Warner Bros. studios in Burbank on Wednesday that showed the talk-show host standing naked alongside Ashton Kutcher, Jon Cryer and Angus T. Jones.
Of course, if this image looks somewhat familiar, that's because it's a slightly modified version of the one that's been out there since July reminding everyone about the upcoming Charlie Sheen-free season of Two and a Half Men.
But there is some method in this madness. After all, Ashton will be Ellen's first guest on her show when it starts up again on Monday.
—Reporting by Claudia Rosenbaum