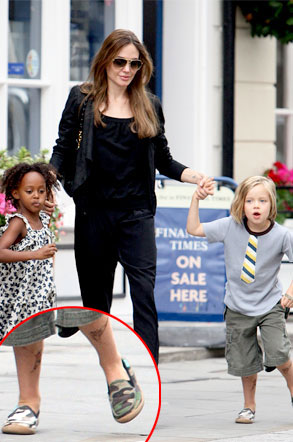 Flynet
While Shiloh Jolie-Pitt might be getting her fashion sense from dad Brad Pitt, it seems she's been looking to her mother lately when it comes to snazzing up her skin.
As Angelina Jolie took the 5-year-old and her sister Zahara out for quite the shopping spree in London yesterday, Shiloh showed off a little body art on both of her legs.
Of course, Mom herself is no stranger to ink, with, at last count, 14 tattoos gracing her fabulous figure.
Seriously. Between Zuma Rossdale and Liam McDermott doing up their nails, and now Shiloh tearing it up with tats, these kids have coolness covered.