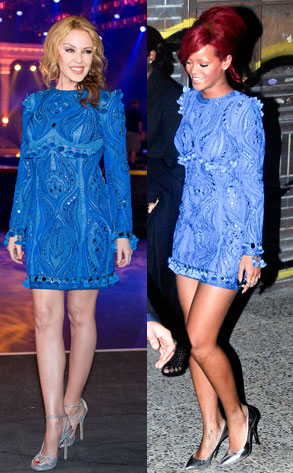 Marc Grimwade/WireImage.com; bauergriffin.com
Is there a statute of limitations on wearing the same dress? Because Kylie Minogue's just been busted in the same blue Pucci that Rihanna wore last November!
The Aussie singer rocked her embellished mini Wednesday at the launch of her Aphrodite Les Folies Tour in Brisbane—pairing it with big earrings and silver strappy Jimmy Choo sandals.
Ri-Ri stepped out in silver pumps and minimal jewelry when she wore the tassled and backless dress on a dinner date in Madrid last year.
So whose styling has you singing her praises? Vote below and then get the final results next Friday at 10:30 p.m. on E!'s Fashion Police show!