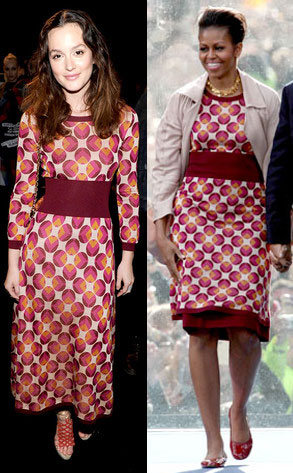 Dimitrios Kambouris/WireImage for Marc Jacobs; Crispin Rodwell/The Sun/Sipa Press
The year's most surprising smackdown thus far: the White House's first lady of style versus one of Gossip Girl's resident fashionistas!
Not that Michelle Glambama hasn't proven herself to be one fashion-forward FLOTUS, but going up against Leighton Meester in almost identical Marc Jacobs' dresses? The stakes have been raised!
Blair Waldorf's alter ego wore her ankle-length version with strappy sandals to the designer's show back in February, while Mrs. Obama wore her dress knee-length with ballet flats and a tan coat while visiting Ireland with the president earlier this month.
So whose spotted frock is your favorite? Vote below and then get the final results Friday at 10:30 p.m. on E!'s Fashion Police show!