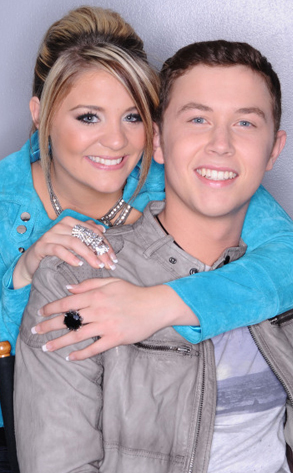 Michael Becker / FOX; Adam Rose/FOX; ABC/ERIC MCCANDLESS
There's no doubt that Lauren Alaina was American Idol's southern belle. Her sweet smile, commitment to her faith and charming accent captured the hearts of hundreds of thousands, but there always seemed to be an underlying buzz that she was a little dim upstairs.
When we talked with Lauren the day after Idol's grand finale, she took time to set the record straight on who she really is and shot down rumors that she's an airhead.
So what did she have to say, and how is she going to handle her new role-model status?
Lauren's singing, spunky style and personality may have gotten her to the Idol finale, but it hasn't earned her the respect of everyone. With her big blond hair and sweet disposition, Lauren doesn't want her easygoing and often humorous attitude to give off the wrong impression.
"I'm not really a blonde," she said. "People call me a dumb blonde. I'm actually really smart. I love to go to school, and my favorite subject is math. I like school more than anything, probably."
Of course we've seen Lauren have her "blonde" moments, like her famous fall down the stairs in the Idol mansion, but Lauren chalks up moments like that to everyday happenstance.
"People fall all the time, but mine just happened to be caught on national television," she said.
Now, Lauren is only looking at her Idol experience in a positive light and holding onto the most special moments—like dueting with her hero, Carrie Underwood.
"I came so much farther than I ever expected," she said. "I got to sing with my idol. Who gets to say they did that? My life couldn't be any better at this point."
Lauren also credits Carrie for the inspiration to be the best she can be for her fans and can't wait to share the rest of her journey with them.
"I met Carrie and talking with her, I could tell she genuinely cared that I was there," Lauren told us. "We went to a party last night for all the contestants after the show. She invited me back to her area, and it was amazing to see that someone I had looked up to for so long was actually the person I thought they were. I want little girls and girls my age to feel that way when they meet me. I'm not fake, and I don't want to mislead people [about] who I am. I plan on not changing who I am for anything. I want to stay true to who I am and let it be available for little girls to look up to me. It would be the greatest feeling in the world for some little girl to look up to me the way I look up to Carrie."
Are you sad Lauren didn't win American Idol? Do you think she'll be a good role model? What Idol do you look up to? Let us know in the comments!