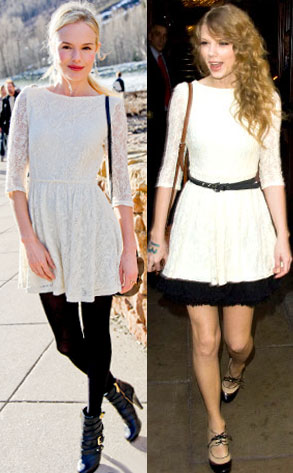 Scott Appel/startraksphoto.com; Ringo/PacificCoastNews.com
This is no fancy designer duel—just two frugal fashionistas who happened to pick up the same little lace dress at London's Topshop for a mere $98.
For the sensibly priced style score alone, we think Kate Bosworth and Taylor Swift are both winners, but we still gotta ask: Who looks best? T.Swift, who wore her belted mini over a tulle skirt with lace-up heels last month, or K.Bos, who just recently layered hers over black tights and buckled boots?
Vote below and then get the final results Friday at 10:30 p.m. on E!'s Fashion Police show!