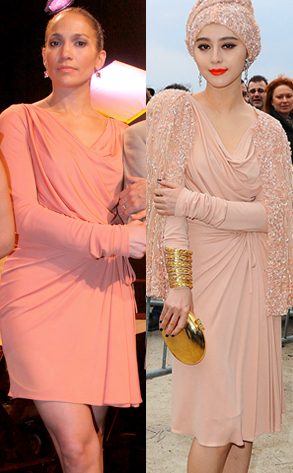 GV Cruz/WireImage; Dominique Charriau/WireImage.com
One classic wrap dress by Elie Saab, two drastically different ways to style it!
American Idol's Jennifer Lopez recently rocked her peach dress at an event in San Juan, Puerto Rico. The diva kept her look uncharacteristically simple, with a slicked-back 'do and earrings.
Meanwhile, Chinese actress-singer Fan Bingbing dressed her frock up with a bedazzled turban, matching cardigan and gold bling for the Elie Saab runway show in Paris last month. Ooh la la!
So which way do you like this dress better: J.Lo's subdued look or Fan's over-the-top accessories? Weigh in below!