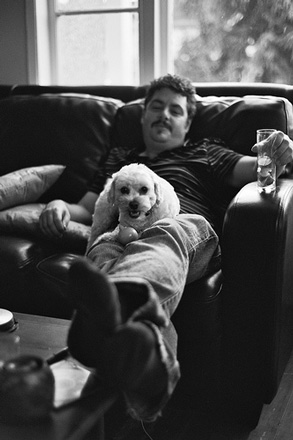 PenMachine.com
When you live in a city where dozens of films and TV series are being developed, filmed and produced you come to respect the talented people who make each of these features possible in every way.
One person who knows the ins and outs of production in BC is Jeff Holloway, a Unit Publicist for several upcoming films that have people looking at Vancouver in a whole new (and groundbreaking) spotlight.
Holloway, a Vancouver Film School alumnus, comes from a strong PR and media family – his father-in-law being instrumental in the promotion of Terry Fox's monumental campaign and his wife co-hosts the Lipgloss and Laptops podcast. Having worked with the likes of Jessica Alba, Dane Cook, David Foster, and Christopher Lloyd, Jeff Holloway is currently promoting The Thaw, which is an eco-thriller shot in BC over the last year that stars Martha MacIsaac along with Val Kilmer.
In September, Holloway will be heading to east for the Toronto International Film Festival in order to promote another production; Edison & Leo has garnered an opening spot at TIFF's Canada First series," he noted, due in part to the film being "the first ever stop-motion feature ever to be shot in Canada."
The trip looks promising, "as it is also the first stop motion feature made that is targeted at a mainly adult market," according to Holloway, with the film bringing an even more unique angle to the genre itself by way of Vancouver.
Holloway's passion for production in general runs so deep that he also works as a Transportation Captain for location shoots. "I chose these two career paths to learn as much as I can about the entire process, from the business and creative end, to the down and dirty logistics and grunt work that go into creating a film."
With the long term goal being a producer, Jeff Holloway's story is truly a testament to the dedication Vancouverites have to this diverse industry that so many are a part of across the globe.
GUEST BLOGGER: Rebecca Bollwitt has been blogging about Vancouver since 2004 on Miss604.com, co-hosting two podcasts since 2005 and in 2008 she co-founded sixty4media, a social media consulting firm.