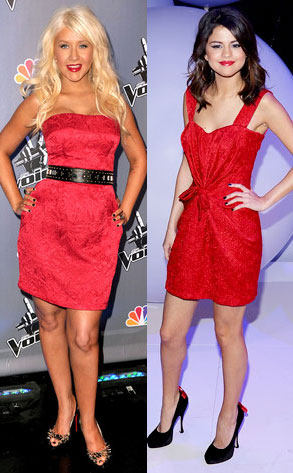 Alberto E. Rodriguez/Getty Images; Michael Loccisano/Getty Images
What do Christina Aguilera and Selena Gomez have in common?
Until this week we'd have said, "Not much." Sure, they've both worked for Disney, but one's in a midcareer meltdown while the other's a controversy-free starlet whose worst offense is dating Justin Bieber.
But both ladies apparently have a fondness for Dolce & Gabbana—wearing virtually the same red brocade dress only a day apart!
So which do you like best? Xtina's strapless version, which gets a little edge from her studded belt and spiked Louboutin stilettos? Or the Wizards of Waverly Place star, who keeps things PG by wearing her cocktail frock loosely knotted at the waist with little bows on her Brian Atwood heels?
Vote below!