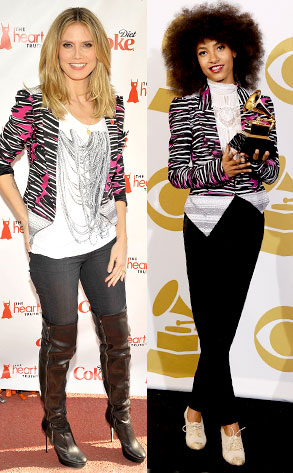 Dr. Billy Ingram/WireImage.com; Kevork Djansezian/Getty Images
It's one funky jacket, but is it worth the fight?
Heidi Klum wore her Suno jacket earlier this month to a Heart Truth benefit, pairing it with sexy thigh-high boots, skinny jeans and a patterned T-shirt.
The psychedelic zebra print showed up 12 days days later when Esperanza Spalding sported the jacket—along with black pants, nude shoes and a high-collared blouse—to the Grammys press room after her win for Best New Artist.
So who takes the trophy in this style smackdown, the runway regular or the fashion freshman? Vote below and then get the final results Friday at 10:30 p.m. on E!'s Fashion Police show!