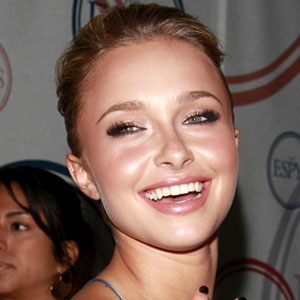 Starbux / WENN
The Heroes star was positively glowing at the ESPY's Giants Event in LA earlier this month, and while the TV starlet is obviously a sports fan (or at least a fan of sports parties), her radiance was not the result of a vigorous workout. Shooting the next season of her series must be going well because her skin looks gorgeous, but Hayden also must have a fabulous makeup artist.
I've asked the amazing Senior Artist for M.A.C Cosmetics, Jane McKay to interpret Hayden's brilliant makeup so you can get the look on your own.
Jane suggests a collection of skin nourishing and natural products for an earthy sparkle. Starting with Strobe Cream for luminosity. Follow with Mineralize SkinFinish Duo in Medium/Natural and Shimmer. The natural shade evens the entire skin tone and the shimmer highlights the eyebrow, eyelid and top of the cheek bone giving the complexion a healthy glow. Gild cheeks with a combination of Golden Bronzing Powder and Mineralize Blush in Dainty and Pleasantry.
Line upper lid with the black shade in Hot Contrast Mineralize Eye Shadow and line the water line (the lower eyelid rim) with Smolder Eye Pencil in Black. Highlight lids with the beige and gold shades in Love Connection Mineralize Eye Shadow and coat lashes with Zoom Lash mascara. Give yourself doe eyes by adding #20 faux lashes to the outer corners.
Accentuate lips with Pro Longwear Lustre lip colour in Rose/Pink. It's a combination of lightweight colour and mirror-finish top coat. Finally, finish the look with a spritz of Fix+ Spray Moisturizer, enriched with vitamins and minerals, which will re-hydrate your skin and give you super heroe radiance.