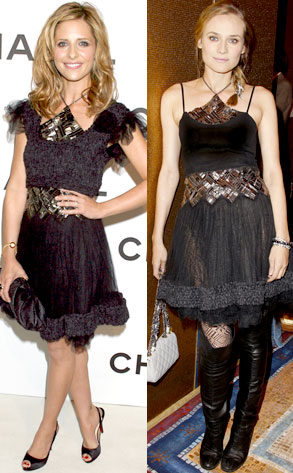 Jeffrey Mayer/WireImage; ANG/Fame Pictures
One dress. Two radically different styles.
Sarah Michelle Gellar wore the embellished Chanel dress back in 2007 to a P.S. Arts event sponsored by the designer in L.A.—pairing it with peep-toes, a black clutch and a bitchin' cocktail ring.
Diane Kruger resurfaced the dress for a Chanel show in Paris last week—ripping off the sleeves in favor of spaghetti straps and wearing it with knee-high boots and a white quilted Chanel bag.
Does Buffy's frilly version slay the competion or are you in favor of the Inglourious Basterds star and her edgy update? Vote below and then get the final results Friday at 10:30 p.m. on E!'s Fashion Police show!