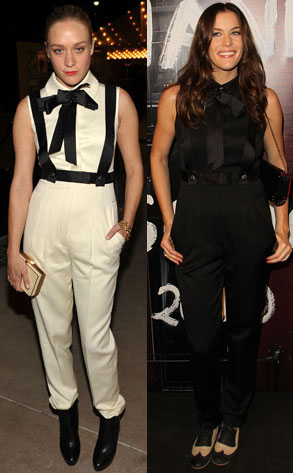 John Shearer/Getty Images for MOCA; Soul Brother/FilmMagic
It's a double dose of fashion faux pas—not only did Chloë Sevigny and Liv Tyler wear almost identical Chanel jumpsuits, you gotta wonder why they would choose this unflattering high-waisted, suspender style in the first place?!
Liv went first as the lady in black, sporting this suit to the reopening of the Chanel boutique in Soho earlier this fall and pairing her outfit with black and tan brogues.
Chloë followed up with this nod to Colonel Sanders in a black and white bow-tied jumpsuit at a MOCA Los Angeles exhibit earlier this month, tucking her white pants into black booties.
So whose jumpsuit doesn't make you wanna jump off a fashion ledge?