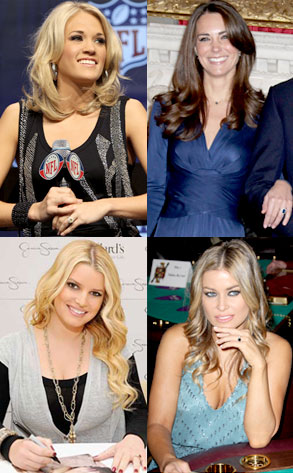 Elsa/Getty Images; Chris Jackson/Getty Images; Jamie McCarthy/WireImage.com; Alexander Tamargo/WireImage
So today it was announced that Prince William proposed to Kate Middleton with the sapphire-and-diamond ring that belonged to his mother, the late Princess Diana. Swoon.
The soon-to-be princess's beautiful blue sparkler isn't the only nontraditional bling out there. Newly betrothed Jessica Simpson showed off a ruby piece this weekend, Carmen Electra received a black diamond from her fiancé, and now married Carrie Underwood sported yellow ice.
So which star is rocking the prettiest colored rock? Click in for a close-up: