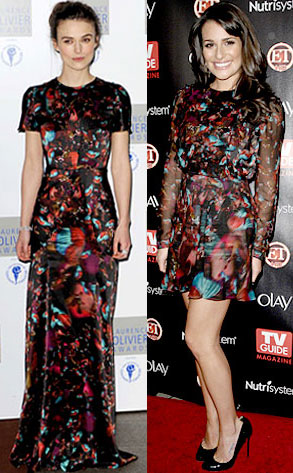 HUSSEIN ZAK/SIPA; Jason LaVeris/FilmMagic
Putting a new twist on reduce, reuse and recycle: Lea Michele didn't just steal Keira Knightley's look, it's as if she literally took the Erdem dress from Knightley's closet and chopped several inches off in the process.
The British actress wore the busy print last Spring to the Laurence Olivier theater awards. One trip to the tailor later and the Glee star resuscitated the floral frock with an above-the-knee version for a recent TV Guide magazine party.
So which dress reigns on the red carpet: floor length or thigh high?