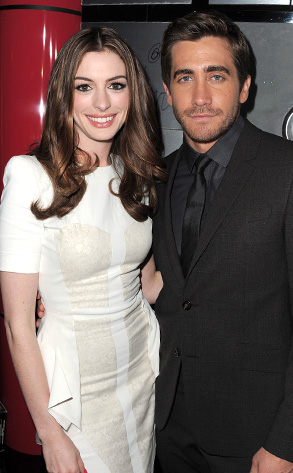 Jordan Strauss/WireImage
Hey guys!
I really hope you're enjoying your E! News one-hour show! We are having such a great time finding our way and making sure you're getting all the entertainment news you can handle! It was a busy week for me! Last night, I hit up the Love and Other Drugs premiere starring Jake Gyllenhaal and the beautiful Anne Hathaway! She is always so lovely and kind–I want us to be friends! And Jake is hysterical (and freakin' cute!).
Of course, everyone wanted to know. Is he dating Taylor Swift? He was never going to answer, so I just opted for "Who's your favorite country singer?" For the record, he didn't say Taylor.
I'm writing this on a Friday, but my work week doesn't end. I update our weekend show on Saturday and then off to another event with Courteney Cox and David Arquette expected to attend on Sunday. I'll have to ask David if he had a chance to read my last blog! Have a great weekend!