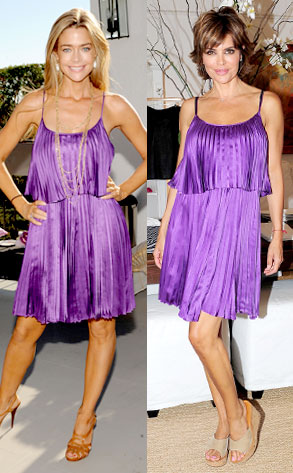 Albert Michael/startraksphoto.com; Albert Michael/startraksphoto.com
Blame it on the BFF syndrome.
Celeb pals and smooch buddies Denise Richards and Lisa Rinna are so tight they've even started dressing alike. (And it's not the first time!)
Both ladies recently stepped out in a pretty, pleated Halston Heritage dress. Richards wore the purple piece first, attending a party at Tori Spelling's house. Rinna wore the very same frock to work at her Belle Gray boutique just five days later.
So which version do you prefer: the party dress accessorized with strappy heels and layered chains or the shopgirl look paired with simple cork wedges? Weigh in below!