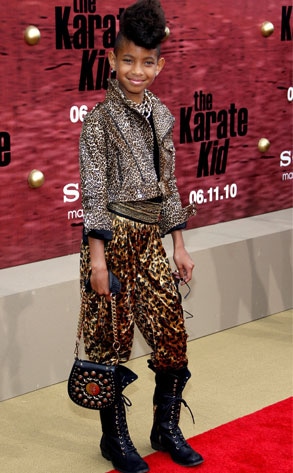 PacificCoastNews.com
Why does Willow Smith get to be a recording star at 9 and I'm still laboring in my garage at 27? No kid that age has anything to offer the industry. I hate nepotism.
—BlaCK, via the Answer Bitch inbox
Jay-Z—yes, that Jay-Z—begs to differ; it was his label who signed the daughter of Will Smith and Jada Pinkett-Smith to a record deal. The mogul claimed, via Ryan Seacrest's KIIS-FM radio show, that he had no inkling of Smith's age or parentage when he first heard, and loved, the kid's whiplash-inducing single. Jay-Z also insists that Smith is no coaster and has a vision of her own, though industry experts tell me that there's probably plenty of coddling going on behind the scenes ...
For what it's worth, industry insiders tell me that Smith is the real deal. She sounds like Rihanna and has more poise in the crest of her coif than, say, all of Ke$ha's parts put together. It's also worth noting that Stevie Wonder started his career at age 8; Michael Jackson also was a bona fide kid superstar. So there is a solid tradition of kids with plenty to "offer" the industry, as you put it.
But if you're asking about creative vision, you win. No kid that age, no matter how talented, has the wherewithal to mastermind the direction or scope of, say, a conceptual album, or a tour.
"With a kid that age, you almost have to use a flash card style of communication," says Kevin Cyka , a producer and label exec who once worked with a 14-year-old wunderkind named Katy Perry. "You say stuff like, 'Do you want to sound like this, or like this?'
"It's not like artists in their 20s, who don't want anyone telling them what to do. Older artists generally have a very strong idea about what their sound is, who the players should be on their record, what they want to say in songs."
That isn't to say that Smith is being ordered around. If a child talent insists on a silly idea, says Cyka, who now works with the faith-based tween label iShine, "You have to pretend like you didn't hear it, or you say something like, 'Yeah, but that wouldn't be such a great idea, right?'
"Whatever happens, it's important to make them think it was their idea."
So how long before Smith starts making more decisions for herself? Not so long as you may think. Cyka says that, even at 14, Perry had a clear focus.
"She may come across as gooey and gumbally, but she knew what she wanted even back then," Cyka tells me. "She wanted a lot of say in everything—pictures, songs. And she definitely had good instincts. It wasn't like we had to prop her up."
Well yes, but could she whip her hair at 9? Exactly.