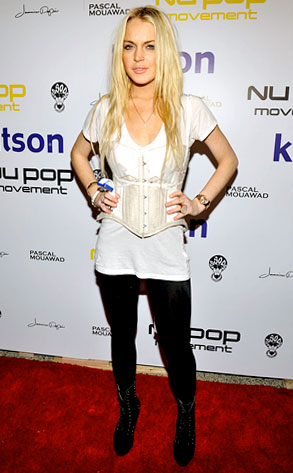 Toby Canham/Getty Images
Dear Ted:
This may be a real stretch, but just think about it: Lindsay Lohan as Lisbeth Salander? I know. I know. Seems ridiculous, however think about it! Lost, troubled, bi-sexual party girl tackles dramatic role, wins over H'wood and guns for a Screen Actors Guild Award. La Lohan certainly has the fiery talent to take on Lisbeth, and honestly, it could be interesting to see her comeback in such a kickass way! Thoughts?
—M
Dear Temporary Tattoo:
You've stumped me, M. And not because I think you're totally crazy, but because that's not exactly the worst idea I've ever heard. In fact, it's a pretty damn good one. We all know Linds is talented when she puts the effort in, and it would be a much better comeback than that skeezy Inferno flick. I'd support it...if LiLo didn't have all of her personal baggage that would drag the entire production down.
Dear Ted:
My husband is in the military and we have been sent (feels like banished) to North Dakota, and I'm a Boston girl who seriously misses her family and city! Hope you can cheer me up by telling me what the deal with Midnight Sun is. Will it ever happen? My puppy and I are tired of waiting.
—Jenny
Dear Down in the Dumps in Dakota:
Oh, I'm sure it will happen—ya know, once the Twi franchise wraps its final film and Stephenie Meyer realizes she wants to keep that Edward Cullen cash cow mooing for a lot longer.
Dear Ted:
Typo Ted, or was this intentional? You sly dog, you. You wrote: "With those somewhat closeted chicks Twyla Babe-Sucker and Venetia Vag-O-Matic still lurking behind their closet doors..." but the link went to Terry Tush-Trade!
—Carol