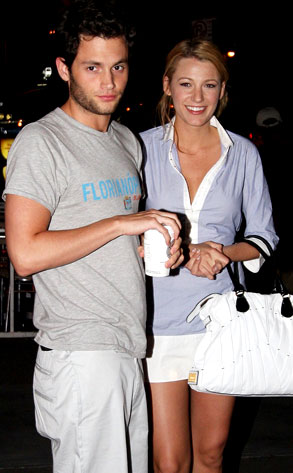 Abbot/Daniel/INFphoto.com
Dear Ted:
I think Blake Lively and Penn Badgley make a cute couple and at one point I was all Team "Darena," but now I think Serena is much better with Nate. Would Blake also be better with Chace? I would totally love to see them together. What's your opinion?
—Nikki
Dear XOXO NO NO:
What little spark those two blond stars have is left on the Upper East Side, Nik, While they might be perfect to pal around together, Blake and Chace won't happen, like ever. She's far more suited for Penn, and even that's a stretch. Isn't this all just too sad for one of the most fun debauched shows on TV?
Dear Ted:
After the disappointing Ashton Kutcher movie Spread and now Killers...what the hell is going on? The guy just cannot score a decent movie role. Why do you think this is? He is funny, and handsome in a wholesome way, so is there some reason you know of and can share with us? I just don't get it. Do you think people are just turned off with his personal life?
—POC
Dear Pranks on Him:
Babe, I think the problem isn't that Kutch can't score a good flick, but that he thinks the movies he picks are good. He's not one for changing up his punch line, which is why his career has always been ho-hum comedies from Punk'd to Killers. Exception, of course, being Dude, Where's My Car? which was actually funny—just don't tell anyone I said it.
Dear Ted:
In your opinion, who's more likely to come out first: Toothy or Nevis?
—Sam