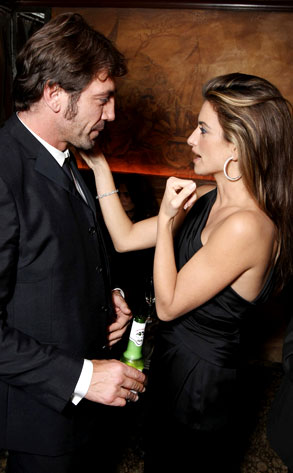 Eric Charbonneau/WIreImage.com
Dear Ted:
Please give us some info on those happy newlyweds Penélope Cruz and Javier Bardem. Are they the real deal or the Spanish version of a fauxmance? On their own, both actors are hot, but together they don't seem to sizzle. Personally, I think Javier should be with me!
—Loves Spanish Men
Dear Viva La Bardems!:
Sorry, doll, but no salacious goss on this saucy couple, not since Penélope had her near-miss with Tom Cruise, whew! The reason you aren't feeling the heat from the newlyweds is because, like their entire relaysh, they're keeping their marriage low-key Kind of refreshing, very ScarJo-Ryan Reynolds (only for real), don't you think?
Dear Ted:
I was watching E! News and they were showing pictures of Jessica Simpson and her new man in Rome celebrating her 30th birthday. Maybe I am completely wrong but she looks to be sporting a preggo figure. His divorce isn't final yet so if she is could that be why reports aren't out yet?
—K
Dear Baby on Board?:
Ouch—no bun in the oven for Jess, yet. She's just got a healthy body, and for that I say kudos. So sick of this gal getting bashed in the tabloids for actually, ya know, eating. I wish more ladies in T-town would follow suit.
Dear Ted:
Do Kristen Stewart, Rob Pattinson and Tom Sturridge have a polyamorous relationship? Do they see other people outside said relationship or are they exclusive to each other only?
—C