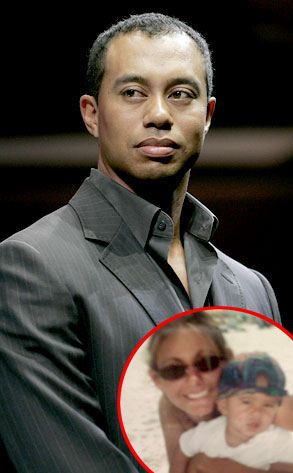 Chris Weeks/WireImage.com; FlashCity.com
Tiger Woods may have been fooling around at the 19th hole, but that doesn't mean he has a love cub in the wild.
The disgraced golfer is hitting back at porn star and ex-mistress Devon James, filing legal documents adamantly rejecting her claims that he secretly fathered her 9-year-old son, Austin.
According to the court filing obtained by E! News, Team Woods asserts that DNA tests show without a doubt that the sports star was not the papa and the case should be dismissed pronto.
James (real name: Melinda Brinling-Caso) filed the paternity suit back in June, seeking to declare Tiger the daddy and force him to fork over child support payments. But even her own mother has denied Woods sired Austin, telling E! News her daughter is a "pathological liar." The elder Brinling currently has custody of the child.
Maybe James can hit up Mel Gibson next?