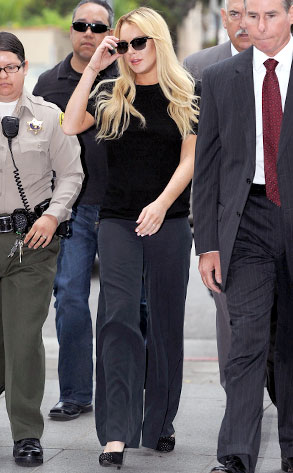 Frazer Harrison/Getty Images
UPDATE: There's good news and bad news for Lindsay Lohan. The good: To keep proceedings as streamlined as possible, the judge said she will not take the conservatively clad star's SCRAM-triggering bail violation into account when deciding whether or not LiLo has violated the terms of her long-standing probation. The judge also shot down Michael Lohan's request to meet privately in chambers, leaving him instead to submit a letter to the court.
The bad: Officials from Right On, the alcohol-education program Lindsay is enrolled in, are taking turns on the stand and painting her attendance as less than exemplary. It's easy as this: If she didn't complete the required number of classes, she'll be found in violation. Their testimony (and our livestream!) will resume at 1:30 p.m. PT, when they return from lunch.