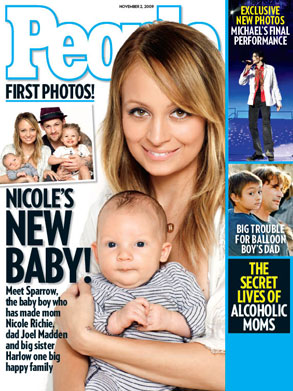 People Magazine
Ah, baby magazine covers. They're that rare breath of cute air that we can look at in the supermarket line without feeling angry at Jon & Kate or sad about Lindsay Lohan's new haggard makeover or annoyed at the Jen Aniston lies.
Instead, we can just let the warm fuzzy feelings wash over us and be like, "Well, that's nice."
So thank you, Nicole Richie, for showing off your cuddly 6-week-old son Sparrow in this week's People. Inside the magazine there are even more adorable pictures of the new family of four that are worth checking out.
And as an added bonus, Nicole and her longtime partner, Joel Madden, even (kind of) explain what's up with the strange bird name...