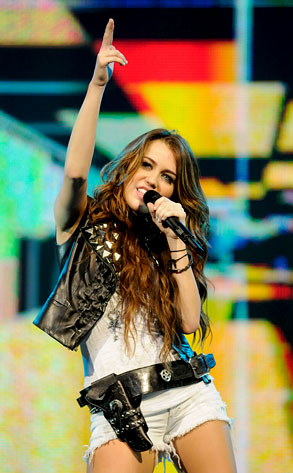 Kevin Mazur/Getty Images
Dear Ted:
So sorry about your breakup. Just getting over one myself (though as I'm 16 it's not really the end of the world right?) Anyway, I'm a huge Miley Cyrus fan but I frankly don't care about her personal life, i.e. whether she's a virgin, etc. All I know is she's fierce and I heart the crap out of the girl. However, I do get sick of the double standards especially in regards to the Jonas Bros. Do you know anything about the rumor that Nick is dating Camp Rock 2 dancer Courtney Galiano who happens to be 21? And if he is do you think he'll get the same BS from the media that Miley experienced when she was dating Justin Gaston? I know the Jonas teenies are already tweeting her threats...got to love 'em.
—Miss Gwennie
Dear Jonas Exposed:
Not sure what to make yet of Nick's supposed new romance, but hypothetically he would not get crap like Miley did. This Courtney chick would! Not from yours truly, but, you know it would be coming.
Dear Ted:
Just a quickie. Do you know if Hugh Jackman and/or Daniel Craig drop any clothing while performing in their NYC gig? Because if so, I may just have to make my first ever trip to the big apple just to see their doable and divine bods. It would be worth it! Love ya! Keep on making my day by just being your sassy self!
—LB
Dear Skin for Skin:
Oh honey, you and me both! But our theater friends tell us Hugh and Daniel take off their jackets and roll up their sleeves exposing their amazing forearms. But that's as much skin as they show. Crap.
Dear Ted:
I'm tired of gossip about Robsten, Jen Aniston, Angie and Kate Gosslin. Tell me about the so-called "serious" actors like Kate Winslet, Cate Blanchett or Daniel Day Lewis, for example—are they really as down to earth and nice as they seem, or they are just lucky that the public is not interested in them? Thanks!
—Barbarella