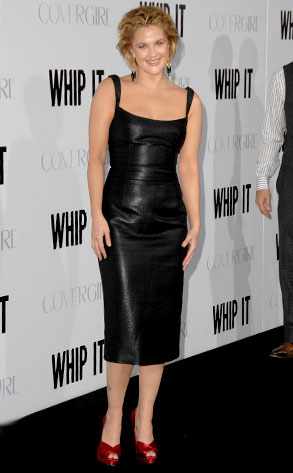 Steve Granitz/Getty Images
With flicks like Whip It, Jennifer's Body and Inglourious Basterds hitting the big screen, we're totally noticing a hot new trend of strong, kickass women invading H'wood.
Meanwhile, men are stuck playing dorky, wimpy Judd Apatowy dudes exploring their feelings. What inspired the gender role switcheroo?
"Tides change," Drew Barrymore told us at the premiere of her grrl power, roller derby movie, Whip It. "I think men and women are both equal and sexy and interesting. I never like pooh-poohing on one sex or the other. Let's celebrate both!"
Whip It is Drew's first foray behind the camera, but did anyone tell the romantic-comedy regular she should direct a chick flick instead? She sure has enough experience with the romantic genre.
"This is the project I wanted to direct," insisted Barry-babe. "It was incredibly challenging. You have to be superprepared or you're gonna be in a lot of trouble out there."
Did your godfather, Steven Spielberg, give you any directing tips?