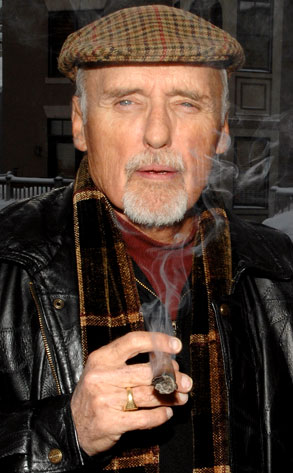 Larry Busacca/WireImage.com
Dennis Hopper is in sick bay.
The iconic star of Easy Rider, Hoosiers and Blue Velvet was taken by ambulance this afternoon to a New York Hosptial, according to a media report.
Entertainment Tonight quoted eyewitnesses who said the 73-year-old Hopper was brought into the emergency room of an unidentified Manhattan medical center wearing an oxygen mask with numerous tubes visible.
No word yet on the nature of the veteran actor's ailment or his current condition. Hopper's rep was unavailable for comment.
Hopper made a name for himself writing, starring and directing in 1969's counterculture classic Easy Rider, which earned him an Academy Award nomination for Best Original Screenplay.
After a psychedelic-infused turn in Francis Ford Coppola's Apocalypse Now, Hooper nabbed his second Oscar nod, this time for Best Supporting Actor for 1987's Hoosiers. He's also known for playing a series of memorable villains in such films as Blue Velvet, Red Rock West, Speed, and Water World.