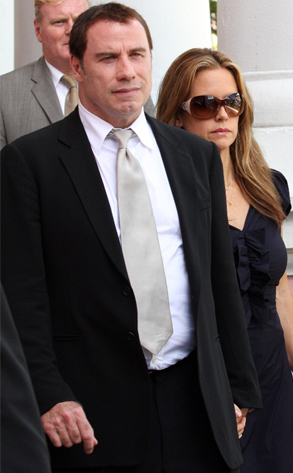 AP Photo/Kris Ingraham
A week after he first took the stand in the extortion trial against himself and wife Kelly Preston, John Travolta was once again testifying in the Bahamas this morning.
This time around, rather than his testimony focusing on the emotional morning he discovered his 16-year-old son Jett was unconscious, Travolta spoke about how he came to realize former senator Pleasant Bridgewater and ambulance driver Tarino Lightbourne were allegedly trying to extort $25 million from his mourning family.
The actor said that it was one of his employees who first informed him of the threat and that he immediately consulted with his lawyer, Michael McDermott.
Travolta, who said he was never directly approached by Bridgewater or Lightbourne, said that the duo threatened to release information claiming he was at fault for his son's death if he didn't hand over the payment, saying they threatened to "imply that the death of my son was intentional and I was culpable in some way."