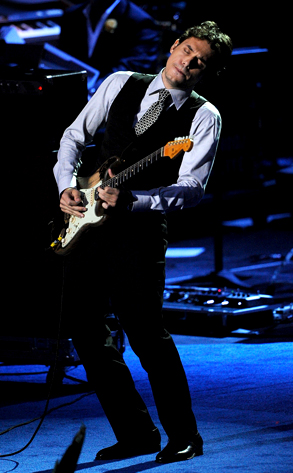 Kevork Djansezian/Getty Images
John Mayer is taking time out from tweeting, hooking up, denying hooking up and secretly hooking up to make a temporary return to his day job, announcing that his new album, Battle Studies, will be released Nov. 17.
"I approach music like a director doing a period piece," Mayer said. "Where Continuum was R&B and Soul, Battle Studies was written with the timelessness of Tom Petty, Fleetwood Mac and Neil Young in mind.
"The melodies and message are concise and from-the-gut with the efficiency of simplicity."
Well, living your life at 140 characters can do wonders for your succinctness.
True to form, Mayer has enlisted the help of a cute young blonde for his forthcoming effort. He duets with Taylor Swift on one of his tracks, "Half of My Heart." He announced this week that "Who Says" will be the album's first single.
A North American tour will launch sometime in early 2010.