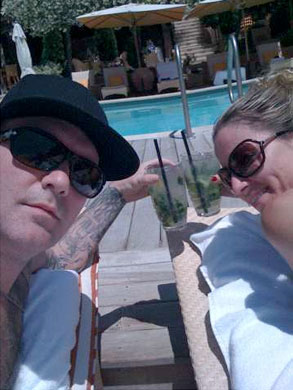 Ain't technology grand. Without it, we might not even know that Fred Durst's marriage is on the fritz.
Three months after his Vegas wedding to on-off paramour Esther Nazarov, Limp Bizkit's nookie-happy frontman took to Twitter to announce the demise of his union.
"For those of you inquiring I will confirm that Esther and I have decided to go our separate ways and we both thank you for your support," tweeted Durst, 31. "Thank you all SO much for your concern and extremely kind words. Sincerely. We remain very positive and wish only the best for each other."
E! News has learned from friends of the twosome that tension in their marriage came to a head recently on a monthlong retreat in the mountains, where the rocker was working on a new album. About that time, Durst's once-cheery tweets suddenly took a dark turn.
"Cheers to life. When things fall apart it's good to have a friend to lean on," he wrote. "We cannot go back and start a new beginning, but we can start today and make a new ending."
No word when he'll start the divorce papers rollin'.