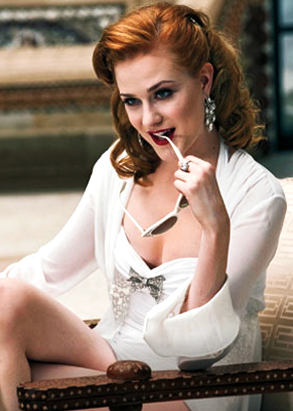 HBO
Were people always this crazy about vampires, or did it take Stephenie Meyer's PG-rated and Alan Ball's basically NC-17 approaches to make people crazy?
—Eternal High, via the Answer B!tch inbox
Another question aimed at getting me to wax forth on Robert Pattinson. Fine. I've seen Wagnerian operas with more charm than that child. I've seen larvae with more melanin that that child. I've seen cinder blocks more fascinating than that child.
Now, before we go any further, the draw of True Blood should not in any way be confused with Twilight's appeal. People love True Blood because they're almost guaranteed to turn on any given episode and see somebody half nekkid. But it's the utter denial of sexuality in the Twilight series that has made it one of the most successful vampire franchises ever.
Between its doormat heroine, its domineering, borderline stalker of a male lead, and their nearly nonexistent sex life, the franchise is prime fodder for the promise-ring crowd.
But neither of those series comes even close to being the first to mix vampires and sexual issues, not by far...