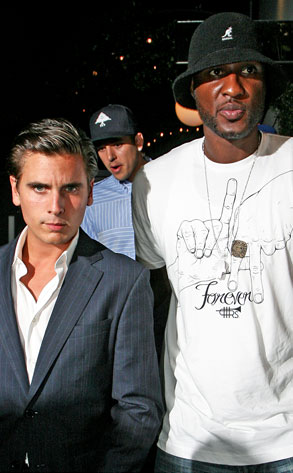 David Aguilera/BuzzFoto/Getty Images
Looks like Khloe Kardashian has nothing to worry about.
Even at his bachelor party last night, Laker Lamar Odom was on his best behavior with his best bros.
While he decided to cancel the big bash at Les Deux that was originally planned, he opted for a small dinner party at STK with Joe Francis, Rob Kardashian, Scott Disick (aka Kourtney Kardashian's baby-daddy), fellow Lakers Ron Artest, Sasha Vujacic, Josh Powell and DJ Mbenga, and even a few Clippers, including Baron Davis, Marcus Camby and rookie Blake Griffin.
Joe, Scott and Rob held court at a table in the main dining room, while Lamar mostly mingled with his basketball boys in the bar area.
Despite one pretty partier who approached him, Lamar showed little interest in any ladies.
The only complaint guests might have?