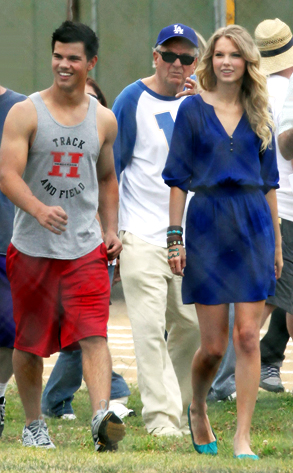 Fame Pictures
Valentine's Day will be that much sweeter with a song from Taylor Swift, don't ya think?
The singer, who plays opposite Taylor Lautner in the upcoming ensemble romantic comedy from director Garry Marshall, will likely be writing and performing a tune for the flick.
"We hope she does," Marshall told me yesterday at Variety's inaugural Power of Women luncheon in Beverly Hills. "But when people write songs, they always want to see the movie.
"[Taylor] wants to see the part that she's in," he added. "I just finished, so I need to edit for a second."
Marshall had hoped that Lautner and Swift would have bigger roles in the movie. Sadly, their busy schedules didn't allow for it.
"She writes and sings and he does the vampire thing," Marshall said. "But I discovered Taylor Lautner ran track back in Minnesota. That's why I have him jumping hurdles in the movie. She likes to dance and he likes to jump a hurdle, so we made up the scene for them."
Valentine's Day also reunites Marshall with Julia Roberts. He was quick to shoot down the never-ending rumor that there will be a sequel to their hit Pretty Woman.
However, Marshall did reveal that he's considering another Pretty Woman project. Read on for the scoop...