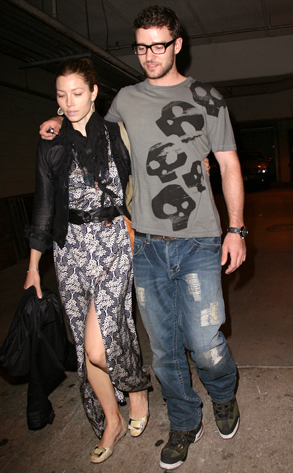 LOMELI/bauergriffin.com
Well, they've already got the theme song.
Jessica Biel, along with rapper Lupe Fiasco and singer Kenna, will embark on a trek up Mt. Kilimanjaro this January as part of Summit on the Summit, an effort to raise global awareness about clean water crisis—namely, that 1 billion people worldwide do not have access to clean, safe drinking water.
Likely along for the climb will be Justin Timberlake, though his name has not formally been connected to the hike just yet. But last spring, the newly crowned Emmy winner gabbed about a strikingly similar project he had, at least back then, in the works.
"I've been training four times a week to get my VO2 [oxygen consumption] levels up to expand my lungs," he told GQ. "We'll climb for a week straight, carrying 30 pounds on our backs. It's going to be intense."
Kenna, who organized the trip and cited the near-death-by-waterborne-disease of his father as his inspiration, said that more celebrity participants will be announced in the coming months.
The climb begins in January, with a countdown on the official site ticking down the just over 104 days until the team begins its ascent.